Ancient Delirium is the exotic new rock CD by shock-rock vocalist Charles Edward (Seraphim Shock) and rock guitarist turned harpist Carol Tatum (Angels Of Venice) in collaboration with award-winning engineer/mixer Florian Ammon (Rammstein, Van Halen).  Ancient Delirium was created with attention to detail and adherence to the highest production value standards. We hope you enjoy this lush and heartfelt music which our passion for excellence, uniqueness and magic has created.  
HISTORY
Carol is best known as harpist for her group Angels Of Venice, however, guitar (acoustic and electric) was Carol's main instrument most of her life, later switching to harp after falling in love with it's beautiful tone and full, rich sound.

Carol's love of heavy blues-based guitar and fascination with world music began at a young age when she heard the shimmering,exotic drones of the sitar, the warm and soothing sounds of oudist/vocalist Hamza el Din and the woeful soul of blues great John Lee Hooker. When Carol was in junior high, her father took her to the L.A. County Museum of Art's "Tutankhamun" exhibit featuring original music by UCLA ethnomusicologist Professor Jihad Racy. Carol was so taken by the exhibit's soundtrack, she immediately purchased the album and played it over and over, absorbing the beautiful and hypnotic feel of the music.

Also when Carol was very young, her Mother and Grandmother would play classical music (her all-time favorite music) in the home, specifically Beethoven, Bach and Grieg. Carol also has an extensive interest in medieval music, specifically The Cantigas de Santa Maria, Libre Vermell and is inspired by the beautiful, authentic sounding recordings by the Martin Best Ensemble.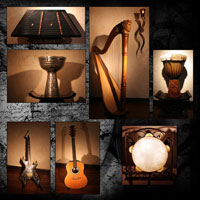 While in junior high, Carol's boyfriend gave her a copy of the first Led Zeppelin album and her life forever changed from that point on. Carol identified with the Zeppelin/Page-Plant style and started seriously writing blues-based hard rock songs and locking herself in her bedroom for hours at a time working on songwriting, guitar solos and learning arranging. Carol played in bands in Los Angeles and had the most success with her own band but, having not signed a record deal after a certain amount of time, she switched to harp and ended up signing with Windham Hill Records/BMG (at the protestation of her father, Jack Bauder Tatum, who worked for MCA Records and had warned his daughter about signing a record deal ~ but she signed one anyway).

But, while harp was now Carol's main instrument, hard rock and electric guitar still simmered in her veins and "Ancient Delirium's" creation was only a matter of time. After releasing 1996's "Awake Inside A Dream," it became Carol's mission to locate a vocalist whose style would compliment Carol's vision of combining the guitar/bass/drums rock platform with exotic instruments and world music rhythms and sounds.

Enter Charles Edward.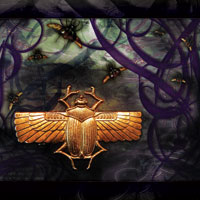 One rainy night in 2001, Carol and her boyfriend Ted drove through pouring rain to The Vampire Mad Tea Party in Alhambra, California hosted by promoter Blade Rhino. The band playing that night? Seraphim Shock. The band's vocalist? Charles Edward. The show? Mind blowing. Carol immediately recognized the elegant, superb vocal quality Charles possessed – the smooth, even vibrato with sustain, warm tone with clarity, unique style, wide vocal range, excellent stage presence – and the gears in her mind started turning, although it would be several years before the duo would work together.

Finally, Carol had an opportunity to contact Charles to perform on one song for a compilation CD for her German record label Accession Records, owned by Diary Of Dreams front man Adrian Hates. Carol and Charles recorded one song, "Primitive Kiss," engineered by Carol's longtime friend and engineer Florian Ammon (of Rammstein fame). Based on the success of that song and the unique combination of Charles voice and Carol's music, Carol began writing compositions for what would eventually become "Ancient Delirium."
NOW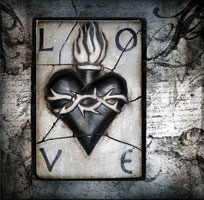 In order to record, Carol and Charles had two challenges: 1) being new to working together; and, 2) working on music while Charles was living in Denver, Colorado and Carol was in L.A. (Charles now lives in Los Angeles). But the challenges were met and the result is an intoxicating blend of acoustic guitar with cello, world percussion (doumbek, udu, frame drum), exotic ornamentations such as sitar, tambura, oud, hammered dulcimer, Tibetan bells, etc., fused with traditional rock instruments such as electric guitar, rich, bottom-y bass and rock kit plus a guest appearance by Carol's cousin Gary Myrick (Gary Myrick And The Figures) playing slinky, "voodoo fire" slide guitar on the Queensryche-type ballad "I Fall." Also making a guest appearance is the sensational female vocalist Tal B. (Run DMC, I5), whose strong, feminine vocals propel African-inspired rhythms on the track "Ahava." Crystal clear female soprano Christina Linhardt plays the "angel" on "Nag (The Serpent King") and famous world fusion drummer Jeramiah Soto (Solace) plays a variety of world percussion on several tracks. Angels Of Venice musician Cathy Biagini plays world-class cello on four of "Ancient Delirium's" songs and Susan Craig Winsberg plays passion-filled flute on "Ahava". Top session player for movie soundtracks, oboist Tom Boyd, perfectly compliments the variety of classical instruments on the Bernard-Herrmann-inspired "Courtesan Suite" and The Section violinist Eric Gorfain (Page/Plant "Unledded" tour) returns to play beautiful, rich violin. Florian Ammon, Carol's engineer, is also a drummer and performs on "I Fall " and the charming and sweet angel Sangeetha Rao adds traditional Indian vocals to "Primitive Kiss."