LISTEN
If you chose to enter with music, mute it now. The mute button is located in the teal bar at the bottom of the page. Then click on the album cover to launch the MP3 player in a new window.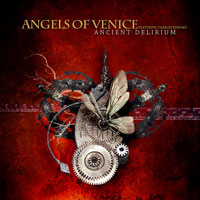 The Accession Records release is called ANGELS OF VENICE Featuring Charles Edward - ANCIENT DELIRIUM. The cover is on the left.

To the right is the cover the US release.
VISIT THE GALLERY FOR LARGER IMAGES AND MORE ALBUM ARTWORK
LYRICS? click here.